Last week my mom put up quite a few Christmas decorations. There are lots of them. Decorations are one of my favorite parts of Christmas preparations. My favorite decoration is this.
I like it a lot. The Santa on top of the roof spins and the Christmas tree spins. It does not make music.

Here is my stocking.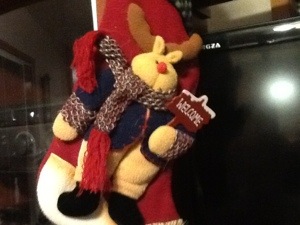 It has a picture of Rudolph on it holding a welcome sign. I think he is saying welcome to Santa.
Here is Sierra my sisters stocking.
Her stocking has a picture of a gingerbread girl on it.
I love Christmas!